Welcome to the JCDS Group
Corporate Website!
www.JCDSGroup.com
We have what it takes to provide you and your small business with services
the big corporations take for granted.
Be it Information Systems, Accounting, Legal or Sales & Marketing Departmental needs,
JCDS Group CAN DO!
Look for us to present our all-new website
very soon, you'll like what you see!
In the mean-time, Feel free to contact us directly: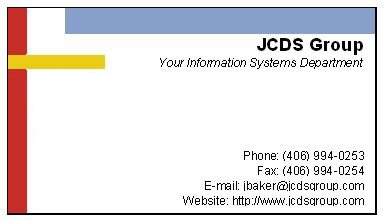 This Page was last Updated:
This site and it's contents are
© 1999-2005 JCDS Group
and is protected by both international and domestic copyright laws.
Unauthorized use or duplication is strictly prohibited.

Please contact WebMaster@JCDSGroup.com with any
technical problems related to this site.